Ketty san, one of ChaCha members gave us a top made of origami papers.  She was a volunteer teacher who taught kids Origami before. I showed this top to Lepton kids. They enjoyed spinning the tap. They wanted to know how to make it. I asked her to teach them. She said, " it is not so difficult. Please try it."
Actually I did notl like folding paper when I was a child, but I tried it because I trusted her words. So I disassembled three sheets of paper and assembled them again. I could understand how to make it. I tried to make a tap with new papers. So Yes, I could !!!!!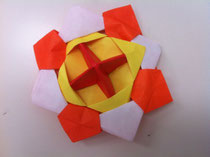 ←This is the top I made.  I could spin it.